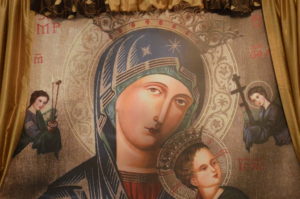 Saint Mary Coptic Orthodox Church in Victorville was founded in 1988 to serve the Coptic Christian community in
the Victor Valley area, north of San Bernardino.
For two years, the congregation gathered in a private residence to worship and pray the Divine Liturgy and study the Holy Scriptures. In 1990, the small congregation purchased a 1.12 acres vacant lot where His Holiness Pope Shenouda III placed the church cornerstone.
In 1992, the church purchased a small house built on a 1.12 acres lot adjacent to the corner lot. The house was renovated and remodeled into a small church facing east with a small alter.
In 1995, the congregation prayed the first Liturgy in the newly remodeled building.
Several Diocese Clergy have served the church, including Hegumen Father Gawargious Kolta, The Late Hegumen Father Bishoy Ghobreial, and the late Father Samuel Samaan and many of the dioceses' clergy.
On January 24, 1999, H. E. Metropolitan Serapion ordained Father John Mikhail as the church's first priest dedicated to serve the parish.
Then on February 26, 2004, H. H. Pope Shenouda III of Blessed Memories and H. E. Metropolitan Serapion ordained Father Michael Ibrahim to start his service as the parish priest while Father John Mikhail was assigned to serve Saint Justina in Rancho Cucamonga.
Father Michael Ibrahim was received at church on May 28, 2004.